The Marriott hotel chain is always the first choice of many people when traveling or working because each project brings a new experience to them.
In April, the world's largest hotel chain said it was promoting room cleaning to strict standards, preparing for the reopening in many Western countries. The move is both to fight the spread of Covid-19 and to alleviate the concerns of potential guests about the risk of infecting hotels. Marriott's new landscape solution continues the values ​​of the brand. This construction has been built for over 90 years, with the motto "people are first priority". Charisma from the Marriott Marriott International brand is known for its luxury portfolio, with iconic brands such as The Ritz Carlton and St. Regis. To experience the services at these top-class hotels, customers often have to spend a large amount of money, which means they will have a matching experience, according to blogger Ethan Steinberg on The Points Guy, this guy spent about 660 USD (equivalent to 15.4 million) for a night stay at The Ritz Carlton Hong Kong. He kept an eye on this hotel since his first trip to Hong Kong, because The Ritz Carlton is located in one of the tallest buildings in the world. Marriott hotels are spread across the top 16 floors, from floors 102 to 118 of the building.
"I had an incredible experience, worth every dollar I spent," writes Ethan. He feels satisfied with the smallest details about the service of this hotel, from the signature orchid scent pervading the halls, the delicate marble blocks in each room, or the spacious room. Magnificent views straight to Hong Kong's largest Victoria Harbor.
Delicious food, top service and unlimited breakfast of Dom Perignon on Sunday mornings conquered him and his girlfriend when he came here for a vacation. In Vietnam, JW Marriott Hanoi is also one of the hotels in this segment. This is the number one choice of heads of state when visiting Hanoi.
Not only recognizing the most luxurious projects, Marriott International also expands its influence in many other segments. In which, many projects in the high-end segment (premium) bring customers unique travel experiences.
For example, when arriving at the Renaissance Concourse Atlanta Airport Hotel, located right next to the Atlanta airport – one of the busiest runways in the United States, guests can admire and produce spectacular photos. For those who love aviation and photographers, this hotel will be their passionate entertainer.
In the same segment, a well-known Marriott brand, Le Méridien, also aims to provide customers with new travel experiences. Up to now, the brand is available in 40 countries and territories, with more than 110 hotels and resorts globally.
Le Méridien is also present in little-known tourist destinations such as Bora Bora, an island in the Polynesian (French). On a small island, guests have the opportunity to experience luxury living in bungalows on the water, roam in the turtle museum, taste authentic local dishes …
In 2017, this resort was awarded a certificate of excellence by TripAdvisor – a title for continuous travel and accommodation properties that receive good reviews and high ratings from the tourist community.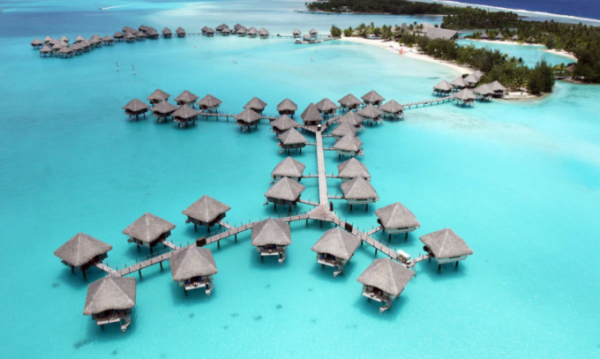 Resort Le Méridien Bora Bora. Ảnh: Marriott.
In addition, Marriott International also offers customer attraction programs such as Marriott Bonvoy, including earning points, redeeming points, and giving incentives … when they stay at 32 hotel brands owned by Marriott International. . In 2019, loyal customers who own Bonvoy cards will get about 50% of the night stay at these hotels. In addition, guests over 62 years of age receive a 15% discount on the cost of their stay at Marriott International hotels.
Criteria for Marriott International set up with Le Méridien Da Nang
One of the new projects to put his name on the Marriott-branded resort map is Le Méridien Residence Da Nang. This is the first class project that IFF Holdings develops in Quang Nam, Da Nang market. According to a representative of IFF Holdings, with the management and operation of Marriott International, the Le Méridien Residences project must meet separate standards.
"Each project managed by Marriott International is located in beautiful, natural-rich locations to convey the idea of ​​bringing nature into each living and relaxing space," he said. In response to this, Le Méridien Residiences has a prime location in Quang Nam, located on the arterial road connecting Da Nang and Hoi An, opposite two world-class golf courses.
Chain of 63 luxury villas here are designed in a minimalist architecture, elaborate every detail. There, the classical European cultural inspiration blends in with the local materials, expressing the "timeless elegance" criterion in the spirit of the Le Méridien brand. IFF Holdings cooperates with international partners in landscape, architectural and interior design from Singapore such as MAPS Design, Avalon Collective or Coopers Hill to realize that.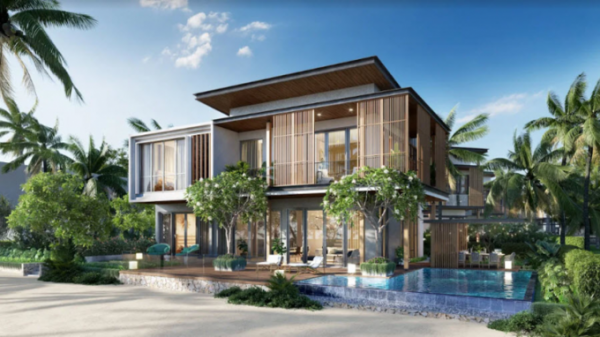 Perspective of sea front villas at Le Méridien Da Nang. Photo: IFF Holdings.
One of the standards that Marriott sets for its hotels and resorts is to protect the environment and save resources. At Le Méridien Da Nang, raw water from the city water supply unit entering the project is treated to meet Marriott quality, then used for cooking and living. Water source after living is concentrated treatment and reuse in the automatic watering of the entire project.
The investor also takes care of the internal amenities at Le Méridien Da Nang in that direction. For example, instead of using chlorine chemicals to disinfect pool water, IFF Holdings uses the US salt electrolysis technology. There, natural chlorine is electrolyzed from salt and kills bacteria in the water, helping the pool water to stay clean but not harmful to the skin, hair and eyes of the user.
As of 2015, 80% of swimming pools in Australia have applied this technology. This method is considered to be a safer solution for human health as well as the environment, compared with traditional chlorine disinfection. By 2014, a hotel in Maryland, USA was evacuated due to eye irritation from customers, due to the chlorine chemical tank being spread to the water source at this hotel.
"Architecturally, Le Méridien Da Nang also needs to adhere to the strict standards of a world-class resort, and at the same time express our orientation to create a classy and luxurious resort space for the floor. elite class ", representative of IFF Holdings said.
Architects use a variety of special materials, including Low-E glass. According to experts, this type of glass is often found in high-end projects in the inner city, but rare in marine resort projects due to high investment costs.
Low-E glass possesses advantages such as slow heat emission, reducing dispersion, absorbing heat while ensuring brightness. "The room using Low-E glass is cool in summer, warm in winter. This is also a cost-effective way to keep heat in the room and ensure aesthetics," said one architect. At the request of Marriott International, only two companies in the world supplying these glasses are Saint-Gobain (France) and AGC (Belgium).
In addition, the special materials used in the project such as marble tiles give high flatness and elegance; powder coated aluminum frame according to German standards, avoid warping and oxidation with marine climate; Porcelain tiled tiles have high strength and durable structure, good waterproofing …
Furniture at the entire resort is individually designed, ensuring the aesthetics and showing the consistency with the style of Le Méridien brand around the world. Household appliances and bathroom equipment imported from famous international brands such as Blanco, Berkeley, Toto, Kohler …
In addition, the project also integrates many intelligent 4.0 technologies such as artificial intelligence (AI), bringing a comfortable life at the doorstep for owners and visitors.
Through Marriott's mobile app, customers can check-in, open doors by phone, automatically open curtains, turn on room lighting, and other room settings. The sensor system will save the customer's face, automatically memorize and adjust according to each individual, as soon as the customer returns to the villa next time.
With careful care, the investor expects to bring customers valuable products, helping customers to enjoy classy and upscale amenities.
Ha Truong