Hanoi, March 15 2019, Marriott International Inc. and IFF Holdings has celebrated the signing ceremony of Le Méridien Da Nang, a beachfront resort hotel with more than 340 rooms, ideally located in one of the most beautiful coastal areas of Vietnam. The new Le Méridien Resort & Spa is being developed by IFF Holdings in partnership with Marriott International, and is slated to open its doors in 2022. Though Da Nang has always been recognized for its high potential of tourism, it is not until now that Marriott International found an investor with a macro and distinct vision to understand and be determined to develop the project according to Marriott's rigorous requirements.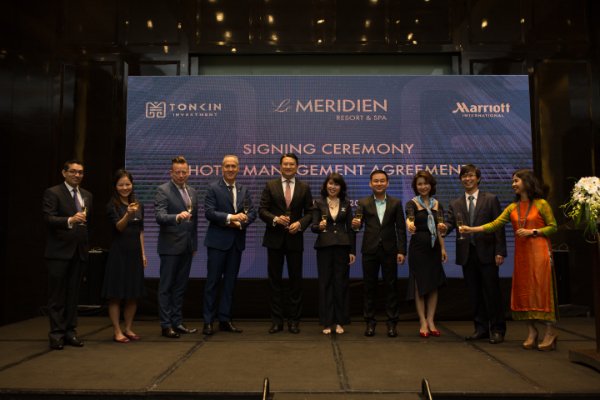 Marriott International signed hotel management agreement, in partnership with IFF Holdings
"We are very excited to be expanding the Le Méridien brand footprint in Vietnam and bringing Le Méridien to Da Nang, in partnership with IFF Holdings," said Mr. Heng Hua, Senior Director, Business Development Marriott, "We are confident that Le Méridien Resort & Spa will offer the perfect combination of sophisticated comfort, beautiful cultured experiences and intriguing new discoveries."
According to The Wealth Report 2019 of Knight Frank, Vietnam's ultra-rich population owning 30 million USD has increased by 7 people compared to 2017, reaching 142 people. Besides, the number of millionaires with assets from USD 3 million to less than USD 30 million in 2018 in Vietnam was about 12,300 people, which showed an increase of more than 5% compared to 2017. It is estimated that by 2023, the number of millionaires in Vietnam may increase to more than 15,700 people. Wisely realizing that the price of domestic resort villas is very low at present compared to the region, the Vietnamese ultra-rich tend to shift the market to find new resort properties, with the desire to assert the unique position of oneself.
With its "Destination Unlocked" philosophy, the Le Méridien brand DNA invites travelers to discover the world and savor the moments in style through the distinctly European travel spirit. The new Le Méridien Da Nang will welcome guests with beautifully-appointed guest rooms including one, two and three-bedroom villas, as well as a Presidential Villa. The hotel's main building will offer unblocked views of the South China Sea, and the beach will be a leisurely few minutes' walk from the hotel.  The Montgomerie Links golf course, an 18-hole public course designed by golfing legend Colin Montgomerie, is only a pleasant ten-minute walk away.
"We are very pleased to be partnering with Marriott International in bringing Le Méridien to Da Nang," said Ms Nguyen Thi Mai – Chairwoman of IFF Holdings – "Da Nang has a uniquely wonderful mix of history, culture and resort living like no other, and the city is poised to become one of the hottest resort destinations in the region. Da Nang is an ideal destination for curious and creative-minded travelers who are keen to see things in a different light. We look forward to welcoming guests to this beautiful part of Vietnam, at Le Méridien Resort & Spa."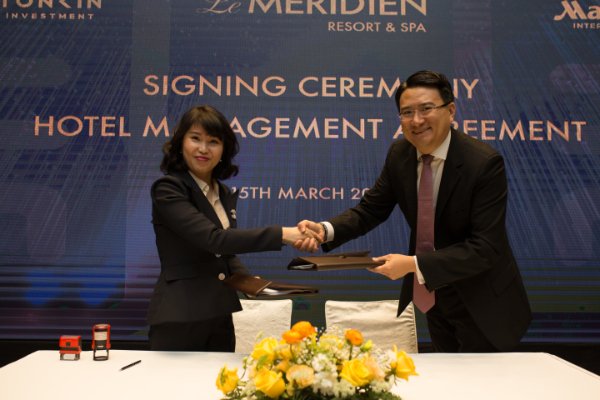 Chairwoman of IFF Holdings – Ms Nguyen Thi Mai and Mr Heng Hua – Senior Director Business Development Marriott signed the agreement
About Le Méridien Resort & Spa
Le Méridien Resort & Spa is an exclusive beachfront development Luxury Residences and a 5-Star Resort. It is situated on a pristine 8 hectare oceanfront property along the endlessly stretched, world-renowned Non Nuoc beach in Da Nang, voted by Forbes Magazine as one of the world's Top 10 beautiful beaches. Le Méridien Resort & Spa Da Nang is now developed by IFF Holdings, marking the presence of Marriott International on the map of luxury resort villas in Vietnam.